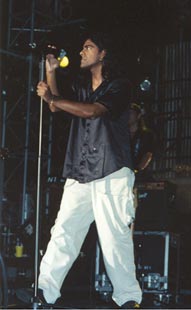 Manhattan-born Ian Budha, the heartbeat of Kabang, didn't seek out being a musician. "When I was 8 years old I could play the drums and didn't know why. It was just something in me." A self taught drummer, Ian learned by going to clubs and watching other drummers play and read up on drumming and watched videos for techniques. His influences include Led Zeppelin, Rush, Iron Maiden, Journey, and Living Color. He's played with several bands over the years, such as Adam West, Destiny, and Ricky Paul Golden (Soap Star). His first gig was in Ithaca, New York at Captain Joe's Reef in the late 1980's.

Ian's talent doesn't stop with the drumset. He is also a gifted singer, belting out "Wanted Dead or Alive" by Bon Jovi and "Girls" by the Beastie Boys. He even borrows Rob's bass guitar and plays a little song called "Old Time Rock and Roll." But he is most famous for his skills behind the drums. His favorite song to perform live is Enter Sandman from Metallica. "This is because I can be very flashy and people really like the song and of course it rocks hard! The best part of performing live is seeing how what he does on stage affects the audience and to see people rocking out and having a good time. That's what it's all about!"

When not on stage performing, Ian likes going to the gym and playing basketball. He also is interested in anything to do with sharks. But let's hope he doesn't run into one!

Ian's thoughts on the future of Kabang: "Kabang has been together for 8 years and has become more than any of us expected as a cover band. We hope to continue doing cover gigs and enjoying ourselves as professional musicians. We are currently working on more originals and promise THERE WILL BE A CD in the future. After that happens, who knows what the future can hold for this band."