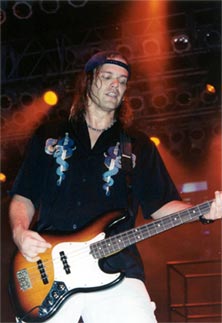 Bass guitarist Rob Dexter, born on Long Island, New York, actually started out in music playing drums in the 4th grade and was even in the elementary school band. He began playing bass at the age of 14, with major influences from Black Sabbath, Yes, and Boston, music that was big at the time.

Rob's first professional band was called Burning Ash. Over the years he has played with a number of bands and recorded a few CDs with them. Rob's first paying gig was at the age of 15 at a bar called Applause in Island Park, New York in 1980. "It was a hole in the wall, but it was a good experience for me." He also has done studio work with bands over the years including work with the guitarist from Megadeth and the Norwegian band TNT. He was in a band called Battle Bratt when he did a promotional tour in Europe. They had put out a CD in Europe and was asked to go there and do radio and magazine interviews as well as a few shows in Germany, Belgium, Holland and France.

Rob enjoys playing songs where the bass is real funky, with a lot of slapping because he loves the sound. He even enjoys playing drums on a few songs because it gives him something else to do and it keeps things fresh, just as singing does. He feels that the best part of playing live is the interaction between the band and a live audience. "Its a natural high that is hard to explain unless you have to passion to perform live. A really fired up crowd can really inspire any performer. I love the lights and the energy from the crowd....that has to be the best."

When not performing, Rob likes to play video games and ride his bike. He also likes traveling, and says, "There's a big world out there and I have yet to see a fraction of it."

Rob's thoughts on the future of Kabang: "I really feel that Kabang will go to the next level, meaning putting out our own material such as in a CD. There is too much talent in this band to have it go to waste and eventually our own songs will reach the public."