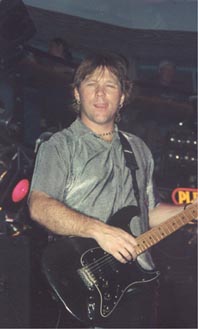 Massachusetts-born Steve Bell, lovingly referred to as the "Sleep King" by his friends and fellow bandmates, brings energy and fun to Kabang's show. The man loves to put on a good performance. Whether he's shakin' his booty on the dance floor during "Brickhouse" with fans, running around on stage during "Smooth", or playing acoustic guitar during Steve Miller's "The Joker", Steve really gives his all. His talents on stage include lead and backup vocals, lead guitar, and keyboards.
Steve's first gig was back in January of 1981, and since then has played with several bands, some of which (the ones he remembers) include Not Fragile, 3D, Wize Guy, and Straynge Appetite. And they say the bands now-a-days have weird names. His musical influences include big names such as the Beatles, Aerosmith, the Eagles, and the Rolling Stones. His reason for becoming a musician was "the plain fact you had a legitimate excuse for not getting a real job and you don't meet many girls landscaping do you?" Well I guess not. Unless you are trimming the lawn of a lonely housewife...
Although most of his hobbies revolve around music, Steve also enjoys playing golf and of course the ever fun sleeping. He also says he enjoys naked needle point. OH GOD I can't believe I put that in.
Steve's thoughts on the future of Kabang: "I can't see into the future but I'm sure whatever is in store, we'll have a great time doing it. And yes there are more songs in the works as we speak, I think you'll like them too."